At Murria Solicitors we have a highly experienced team of UK Immigration and Nationality Solicitors on hand to provide advice and legal representation to private individuals, companies, educational institutions, local authorities and employers. All our advisors have received Immigration and Asylum Accreditation by the Law Society and our expert team includes the honour and prestige of having an Immigration Judge appointed by the Lord Chancellor's Department.
For Expert Immigration Legal advice, call us on Freephone
0333 800 0033
or send us
your enquiry by filling in the
Contact Us
form.
We pride ourselves on our approachability, on the high levels of personal involvement we bring to every case and on our record in achieving successful results for our clients. We provide a secure client login area on our website to make it easier for clients abroad to communicate with us and we make every effort to respond to all requests within four working hours.
The main areas in which we provide guidance and representation include:
visas for all family members, including fiancés, spouses, adult dependant relatives & adopted children
visas for returning residents
British nationality applications, citizenship & appeals
UK ancestry and right of abode
Employers Sponsor Licence Applications
Business Visas, including Tier 1 Investor,Tier 1 Entrepreneur, Tier 1 Exceptional Talent & Sole Company Representatives* Work Visas, includingTier 2 General & Intra-Company Transfers
Tier 5 Visas, including Youth Mobility Scheme, Creative Sporting Visas, Charity & Religious Workers
Student Visas, Extensions & Appeals
EEA Residence Applications & Appeals
Asylum, deportation and removal, detention and bail
Domestic violence, long residency applications, child access rights
Permanent residency applications
Same day applications at Public Enquiry Offices
Biometric Residence Permit applications
Appeals against Home Office and Entry Clearance Office decisions
Human Rights Applications & Appeals
Applications outside the Rules & on Compassionate grounds
Whatever your personal circumstances regarding Immigration and Nationality, Murria Solicitors have the expertise and experience to assist you.
We offer fixed fee services for Immigration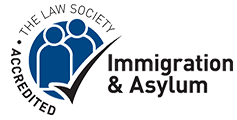 A bill has been introduced into parliament by the Home Secretary, Priti Patel, which will remove freedom of movement for EU citizens. . Instead, migrants from EU member states will be subject to the same immigration criteria as people from the rest of the world. ...
More
The government has set out its plans for a new points-based immigration system, that will come into effect on January 1st 2021.